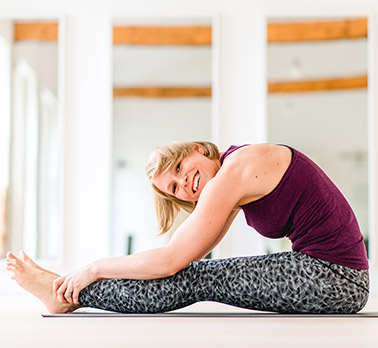 When I started pilates as a client in 2012, I just had my first job after receiving my bachelor's degree. I saw my chiropractor regularly since I was 16 and I knew that it would be a bad idea to sit 40 hours per week at an office without exercising. I recognized a pilates studio in my neighborhood – the owner was at my age and her studio was beautiful. I did my first session and was hooked. Three months later, my teacher Carolin asked me "Have you ever thought about becoming a pilates teacher? You have that special twinkle in your eyes after class!". I was overwhelmed by the question as I never thought that I can "teach" somebody something. But I also knew that I did not want to spend the rest of my life at an office waiting for Friday each week. I thought about it to create something beside my job that gives me more than just earning money in a side job. Teaching pilates it is! I started my teacher training in 2013 and was happy to teach in the evenings at the pilates studio I used to be a client at. After those classes I knew that my day had a better meaning and more senseful outcome compared to be at the office (only). It was rewarding to see that clients decided to spend their evenings, after a long day, at the studio with me. Every time, I saw happy faces who wished me a nice evening. Some were tired, some sweaty but everybody smiled. Since I started teaching pilates I can say: there was never a single day I left a pilates studio in a bad mood after teaching. Seeing progress in the movements of my clients, sharing my experiences and passing on my passion for pilates is the best reward I can imagine. There is not only a runner's high – there is definitely a pilates teacher's high!
Since I moved to the US in 2017, I still have two careers. For me, it is the best balance for me to keep my marketing career and my teacher career. I am passionate about both and being a pilates teacher compensate what my marketing job is not about: Teaching pilates is without competition or pressure but focusing on health and mental strength. Being a pilates teacher is about supporting clients in achieving their goals and meeting inspiring people at the studio. Being a pilates teacher is about sharing my experience and passion - it is the key for finding my personal balance. Starting my career as a pilates teacher was one of the best decisions in my life. I am so grateful that my pilates teacher Carolin knew it before I did!
I am a pilates teacher now for 6 years; I taught in Germany in the first years and started to teach at Equilibrium Studio in 2018. My passion for pilates is still increasing and I love being a teacher!
Jeannine Buchmann