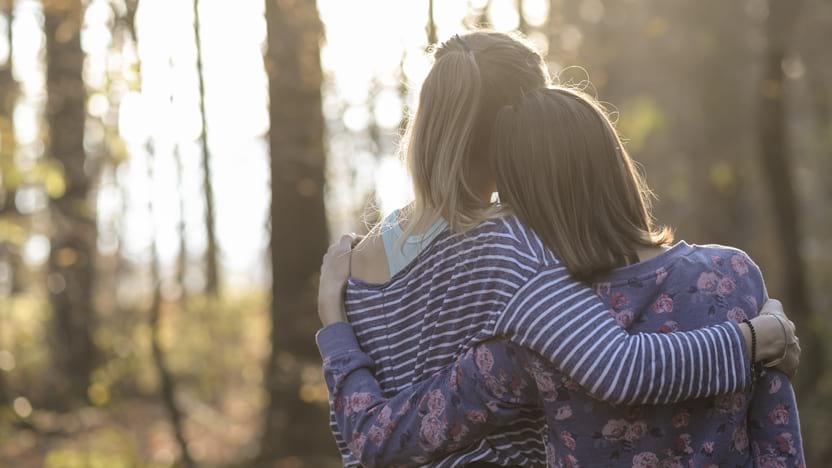 When STOTT PILATES® Certified Instructor Beth Albert-Quinley opened her home studio, Core Resolutions Pilates and Fitness Studio, in 2007, one of her first clients was a woman who wanted to get back in shape after her pregnancy.
What began as a standard client situation became a four-year journey that revealed to Beth how mindful movement can be a catharsis and a catalyst for transformative change.
Here's how it all began
When they first started working together, the client was hoping to tone up and improve her overall fitness and energy levels.
Beth designed an exercise program that emphasized cardio, incorporating a variety of equipment to keep the workouts fresh and engaging, including the Reformer, Stability Chair™, Stability Ball™, dumbbells and BOSU®.
"One thing I'm very cognizant of— and this is a challenge to balance as an instructor— is to try to maintain a pace that isn't overwhelming yet is beneficial enough that the client recognizes the changes in their body and sees that they're working towards achieving their goals," Beth says.
"I tell them, 'If you do something that you feel the next day, shoot me a text message and let me know,' and that information is super helpful.
"I try to never progress to a point where people are going to be in pain, but there are some things that I know they're going to feel and I tell them that."
That invitation for feedback helps Beth build trust with her clients, which she did with this client.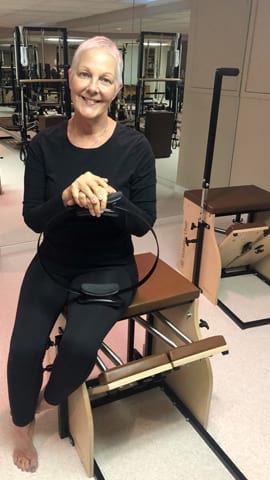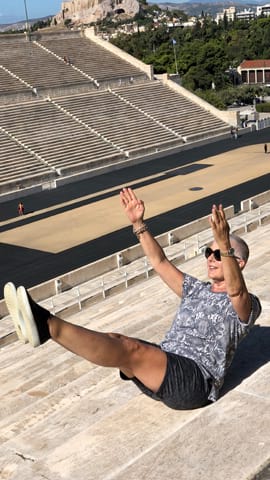 From left: Instructor Beth Albert-Quinley at her home studio, Core Resolutions Pilates and Fitness Studio; and working on her Teaser in Greece.
As the woman began to feel stronger and more energized, she became even more determined. Beth interspersed her STOTT PILATES Matwork and Reformer routines with interval and incline training on the treadmill. "It was HIIT before that was even a thing," Beth says.
Their hour-long sessions once a week soon became three one-hour sessions every week.
"I think that she enjoyed it a lot. Pilates is such a kind and gentle"
form of movement. And when you start at the Essential level, it is very user-friendly and unintimidating.
"Once she started getting a taste of the change within her body, it inspired her to keep advancing."
As the sessions went on, their friendship flourished. The woman hired Beth's daughter to babysit for her. "I didn't know this woman at all before she started working with me, but we definitely became very close," Beth says.
Then one day, she came to her session and said to Beth, "I have some news that I need to share with you."
"This is probably the most significant thing that's ever happened to me in all my years of teaching," Beth recalls.
"She shared with me that she had been in an abusive relationship and she said, 'I hadn't had the courage to stand up to this man until I started working with you. You helped me build the confidence that I needed in order to know that I could get out of this relationship and be okay.'"
Beth was in shock. She had no idea that this had been going on in her client's life, let alone that she'd had this sort of impact.
"I was happy for her and sad that she'd experienced this. But it made me very proud of what I had learned and what STOTT PILATES had given me. I truly feel that through my journey and my becoming a STOTT PILATES instructor and working with the people at Equilibrium Studio in Detroit, those instructors empowered me. I think what they gave to me, I was able to turn around and give to her," Beth says.
The client continued to work with Beth for a short time after that.
"You know, who knows what emotions she felt while she was experiencing this transformation. Maybe she felt better served to move on and move away. I don't know. I wish I knew," Beth says.
The experience proved to Beth how transformative mindful movement can be. "It's just given me wheels to keep moving forward faster and faster. It's very satisfying."
"It's heartfelt joy to know that you've made that kind of a "
difference in someone's life. She found her strength through exercise and making that mind-body connection and that's just amazing.
Find a meaningful career in mindful movement.
Credit source
https://www.merrithew.com/blog/post/2019-11-13/in-my-experience-how-this-stott-pilates-instructor-made-a-meaningful-difference-in-her-clients-life