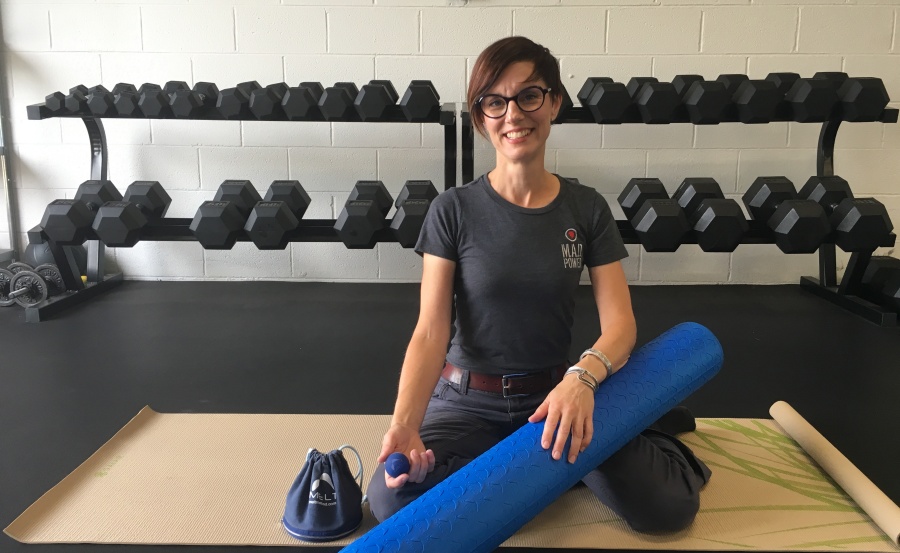 Mary Alice has been my client for 5 years this month (Happy MELTiversary Mary Alice! ), so I decided to interview her about her MELT practice and share her experience. If you've never heard of MELT, MELT is hands off manual therapy. We use a soft foam roller and small balls to balance your nervous system and hydrate your connective tissue system to help reduce inflammation and pain. MELT also helps with muscle timing so you move more efficiently and effortlessly. So if you're in the studio on Wednesdays at noon and you see a lot of relaxed happy people leaving with a blue roller, they've just MELTed. Here is what Mary Alice had to say about MELT.
1. When did you start MELT and what inspired you to get started?
I started MELT in Sept 2014. Earlier in that year, my father had fallen and it had changed my life, meaning I had to spend more time taking care of my parents and had to quit my job. I realized they needed more assistance with day to day life, and I had to help them transition to the next stage. As a result, I was spending a ton of time at my parents with the TV always on. One afternoon, Sue Hitzmann (the creator of MELT) was on the Rachel Ray show withe Dr. Oz. In that segment they did the 60 second facelift. I was so amazed by that segment that I went to the website and did the facelift and was blown away by what I felt and saw! My entire face did look lifted. I saw that I could buy all the equipment and get started, but realized quickly that I probably wouldn't use it so I put it on the back burner. At the end of the summer after spending so much time helping my parents, I realized I needed to get back to exercise and self care. With all the stress in my life, my neck and shoulders were always sore and I had some low back pain. I looked at the Birmingham Community House website where I had taken classes before and there was MELT! I was so excited and signed up for the class! I hoped MELT could help, especially with my chronic neck and shoulder pain. I wasn't disappointed.
2. How often do you MELT? Where and when?
I MELT once a week in class at Equilibrium and twice a week with my personal trainer (I've shown him to MELT). I do the hand and foot treatment at least 5-7 times a week and the roller work 3 times/week. Beyond the hour with Leanne, I spend about about 15-20 minutes/ day outside of class. That's all I need to feel the difference.
3. What benefits or improvements have you noticed in your body and/or life since starting to MELT?
I had a lot of discomfort before starting MELT. When I first started MELTing with Leanne, I learned the importance of the MELT rest assess. I remember feeling so many imbalances in the beginning of my MELT practice. Now those imbalances are so much less prominent. It is like I have a different body than the one I had on the the first day I MELTed 5 years ago. The changes I feel after a MELT class are longer lasting now. The low back stiffness/soreness is no longer an issue and now I don't worry about my neck and shoulders anymore. Whenever my feet ache from being on them a long time, I just do a mini foot treatment and I feel better immediately. I feel like a little goes a long way and since I MELT regularly, my body responds quickly. I feel more limber, less stiff and less restricted in my body, like all my joints are moving freely and the muscles don't feel like I'm going through mud. I have smoother more fluid movements from day to day.
4. Do you have a favorite MELT sequence or move? Why?
I love the MELT neurostrength core work and my favorite exercise is the mini-bridge. When we reassess I always feel like my pelvis is open and aligned. I also love the MELT level one work which we do every week in class. My weekly class is my respite and gives me an hour of self care with no distractions. My favorites are the lower body work including the back of thigh shear and SI shear because I can always see and feel a difference in the my skin tone and in my booty!! Crazy I know! The back of the thigh shear really helps with cellulite when I do it regularly. The SI shear feels great on my hips and low back. I get such a release. The cellulite reduction is such an added bonus to feeling good!
5. What would you say to someone considering trying MELT?
MELT can change you life if you practice regularly and stick with it. It truly has changed my life!
Thanks Mary Alice for taking the time and sharing your MELT experience. If you want to feel as good as Mary Alice does, check MELT out! What are you waiting for? MELT is the perfect complement to Pilates and all your other fitness activities.
--Leanne Bourassa